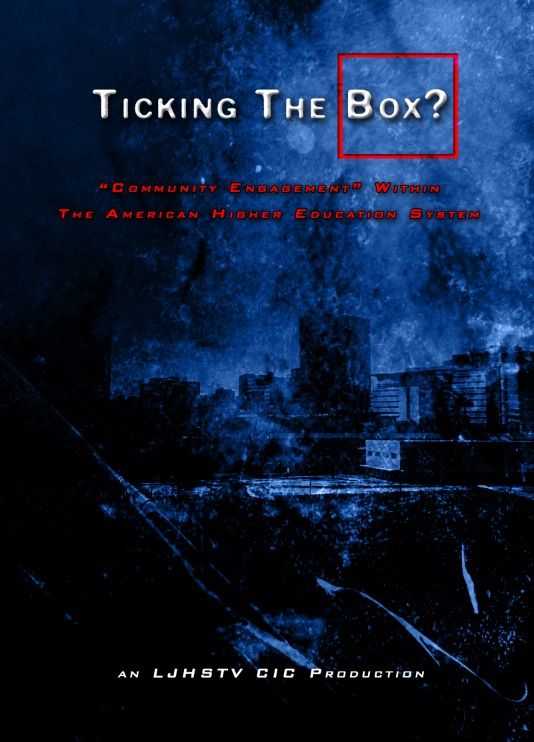 Ticking The Box? "Community Engagement" Within The American Higher Education System
This film asks about the nature of community engagement and what it looks like in practical terms? What is the role of Colleges in engaging with schools and does this engagement always help? Through interviews with academics, teachers, policy makers, members of the community and others with an interest in education we try to get to the core of the issues. Often this type of material is the topic of books and articles but our film aims to make it 'human,' by showing the thoughts and emotions of those who are affected by decisions an actions of others.
"Ticking The Box" is available for digital download. A DVD copy can be provided if a digital file is not an option for your institute. The purchase will give a university/college/campus full use of the film within their institution. Check our conditions for specific details.
Once there has been purchase confirmation, a pdf license agreement will need to be signed before the MPEG2 file is released for download. Don't worry this isn't anything daunting, just some simple outlines to protect our work. If you need the file in a different format for your online system, let us know and that will be arranged.
The agreement lists the following conditions:
-Unlimited viewings within your own organisation boundary for study, workshops & educational purposes.
-The material should not be re-edited, used for commercial gain or duplicated physically or online (outside of your institute boundary).
-The license is a one-off fee of $150.00 and does not need renewed.
Licensor and Licensee agree to the following additional terms:
-Licensor retains all copyright and moral rights to each film.
-Licensor also retains all rights not expressed in the agreement including advertising rights.
-Licensee may not transfer this license to other parties without written permission from the Licensor.
Trailer |
Full HD